C.P Goenka International School in Mumbai Brings the Perfect Balance of Education and Activities in Mumbai.
October 22, 2019
All work and no play makes Jack a dull boy!
With education and development of a child becoming more and more dynamic and demanding, this age old proverb very vividly stands true even today for the overall development of the child. Growing competition, rising fields of education and increasing professional requirements are day-by-day increasing the need for a holistic education with more and more emphasis on extracurricular and additional skill development in order to make students ready for the future and secure a competent position for themselves in their careers. It is these rising demands that are making the role of educators and parents all the more important right from the time a child gets into kindergarten or elementary school as they greatly shape the foundations of a child's overall development.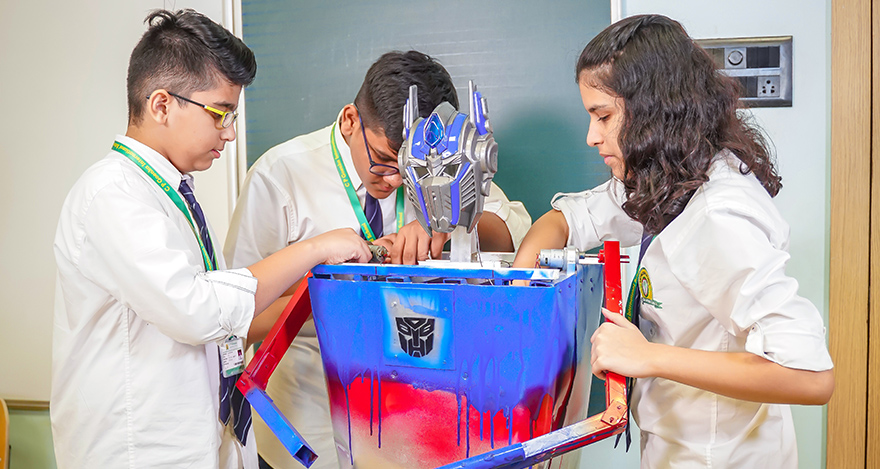 In addition to this, handling the demands and the aptitude levels of the millennial generation has also become all the more crucial in defining the kind of education or learning approach. Gone are the days when a total focus on academics and books were enough to make a child competitive and successful. Today, securing 90 plus in academics is a feat that every child can achieve and it is rather the additional skills and hobbies that a child possesses that makes him stand apart from the crowd and display his or her uniqueness and proficiency. Thus, this need for additional skills has therefore widened that scope of a child's learning and development to include aspects beyond theories and academics into a more practical, creative and innovative approach of learning making education a 360 degree holistic process than just a theoretical setup for knowledge. A balance between the work and the play in academics is therefore highly crucial to make our children global citizens of tomorrow with a successful future and career.
Keeping up with the times and putting your child's overall development at the fore, C.P Goenka International school in Mumbai brings to its students an academic program and curriculum that not only hones a child's academics and theoretical understanding but also takes the leap forward to a more practical and critical approach letting the students explore their creativity, hobbies, passion and curiosities along with their academics. The school's student centric academic program not only provides the perfect balance of 'work' and 'play' but also ensures holistic development of the students with the help of its uniquely designed instructional programmes entailing humanistic values, sports and performing and creative arts.
Driven by a vision of developing 'Personality over Percentage', C.P Goenka international school in Mumbai caters students of various levels from kindergarten to high school, ensuring 21st century global education in order to build their international competitive calibre making them global citizens of tomorrow. Being one of the front runner, IGCSE Schools in Oshiwara, C.P.Goenka international school provides infrastructure and facilities that helps students focus beyond their academics and explore their curiosities, ideas and interests right from kindergarten through activities like music classes, football, cricket and basketball, indoor sports, hobby classes and even classes for higher order critical skills like analytics, robotics and coding. With equal weightage for hobby development courses and academics in the everyday schedule and the child's overall annual performance, the school ensures holistic development of the child, enabling them to pursue a career in line with their hobbies and interests. Along with this, our course also includes sessions for free play activity enabling students to enjoy multiple games both indoor and outdoor and explore their creative vigour and skills.
As a IGCSE school in Oshiwara, C.P Goenka International School also ensures complete focus on higher order academics in order to make the students ready for extensive careers like pursuing medical and engineering and therefore prepping them with the confidence to crack entrance exams right from their middle schools. Our passionate mentorship and weekly confidence and personality building session also helps students garner the communication skills and make their unique personality in order to stand apart from the crowd and win several inter school, national and global competitions.
With such focussed attention to a child's development and growth, we, at C.P. Goenka International School, ensure that our students becomes the best amongst the globe and represent not just the school but the country at a global level. With our detailed and personalised efforts for each student coupled with the ethos of the school and the Indian culture we develop an international calibre in the students to become leaders of their lives. With our efforts, we aim to not just achieve all work and play for our students but also transcend beyond the balance in order to build students the flag bearers of the world tomorrow.