Principals Message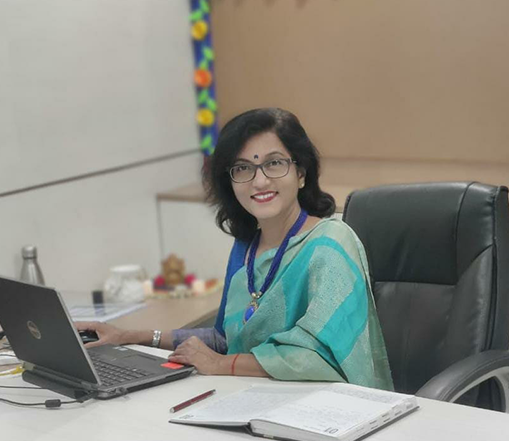 Sharmila Madiwale
Principal
CP Goenka International School, Thane
FROM THE PRINCIPAL'S DESK
'If you don't like something, change it. If you can't change it, change your attitude.' – Maya Angelou
Education is a process that helps build the right attitude towards everything that we come across. Secondary education is not only a collection of data and information; that data needs to be processed so as to develop, strengthen and season one's mind. Strong and matured minds create a healthy thought process and as a result, the right attitude.
The question still remains…what is data processing? It is nothing but converting the information received in various formats; sharing it with others through a variety of ways; analyzing it, synthesizing it and, ultimately internalizing it so that it becomes a part of our own selves. Drop by drop, bit by bit, it keeps adding to the knowledge one gains and helps shape the young minds holistically.
We, at CP Goenka International School, Thane, ensure that our young minds are trained to process the data received, use it to build strong and healthy minds, and develop the right attitude. The focus is majorly on the development of skills apart from handing over mere data. Students are exposed to various competitions at national, international levels; activities are planned to keep in mind the basic concept of Multiple Intelligence thereby creating opportunities for literally all students to participate and making the school a real happy place for all.
The workforce required to help young minds transform the data into knowledge needs to be skilled. The faculty at CPGiS is experienced, trained, and above all invested wholeheartedly which keeps students intellectually active. Technology-oriented pedagogy makes the teaching-learning process engaging and enjoyable.
The right attitude of the faculty coupled with the bright and spacious infrastructure offers an apt environment for enabling our students to transform themselves into confident, responsible, and righteous global citizens.
Being one of the top schools in India, we strongly believe that sensitizing these young minds towards environmental, social concerns is solely our responsibility. Hence, they are involved in various community projects like visiting 'Old Age Homes', recycling empty milk packets, spreading social messages through street plays.
The importance of a healthy mind and healthy body is imbibed by conducting regular sports activities and meditation sessions.
At CPGIS, we have taken a vow to build a healthy, honest, confident, and responsible society that believes in working to build a strong nation and a rational world because we believe,
'Education is the most powerful weapon which you can use to change the world.' – Nelson Madela