Principals Message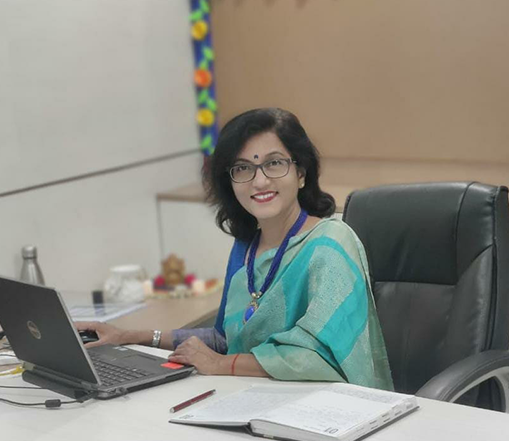 MS. Jayshree Ma'am
Principal
CP Goenka Int'l School - Thane
Dear Parents,

I believe that education should be an empowering process that allows and guides learners to develop their passion, critical thinking, compassion, and orientation towards wisdom for timely action. The learners at CP Goenka International School Thane are blessed with a well researched and harmonized curriculum synergized with modern teaching-learning methods to produce a generation of well informed and emotionally sound global citizens.
"By education I mean an all round development of the best in child and man in body, mind and spirit".-MK Gandhi.
On campus, with elevated enthusiasm we persistently provide a platform for holistic learning to the young generation of learners. We spare no efforts to make the educational experience of our students meaningful and relevant. The skills acquired by the learners are to empower the youth to fulfill their dreams and be the change they want to see in the world. The learners must be equipped to face the challenges of the future for leading the society from the front, while ensuring that they develop love for learning and have a joyful experience with a curious mind to know more.
"Education is not the learning of facts, but the training of the mind to think." Albert Einstein.
I am proud to be heading the state of art modern campus, which provides a dynamic ambience for learning in an environment full of positivity, encouraging the learners to develop understanding, thinking and reasoning skills. The upbringing on campus also helps to instill a life-long appreciation for learning. Needless to say that the experienced, dedicated and compassionate faculty members nurture the innate potential of the learners making them independent and confident citizens of tomorrow.
We at Goenka Group of Schools believe that our purpose of education is to create good citizens. All the learners are groomed to be informed, empathetic, and engaged civic-minded global participants, who strive to make the world a better place.
As a conscientious institution, we ensure that the learners have extended co-curricular activities and group learning experiences in sports and performing arts for the overall personality development. These experiences in turn enhance the confidence and self-esteem of our students to emerge as leaders in all walks of life.
Being part of the education fraternity, I strongly believe that 'Education is simply the soul of the society as it passes from one generation to another'. It is our moral duty to ensure that by educating our learners we turn mirrors into windows and provide the gift of education to all and promise to impart education as the most powerful tool which one can use to change the world.
With Best Wishes,
Yours truly,
Principal
CP Goenka International School, Thane.