International School in Mumbai, Taking the Leap with STEAM Learning!
November 14, 2019
Living in an ever evolving age with technology, environment and even systems advancing and changing rapidly; getting our kids ready for tomorrow has become a necessary yet difficult task. While education and learning are slowly shifting towards digital and comprehensive formats for better understanding of the new age child, a 360 degree approach for holistic learning and development becomes the need of the hour as technology, innovation, creativity and academics converges today demanding higher abilities and skills amongst the children.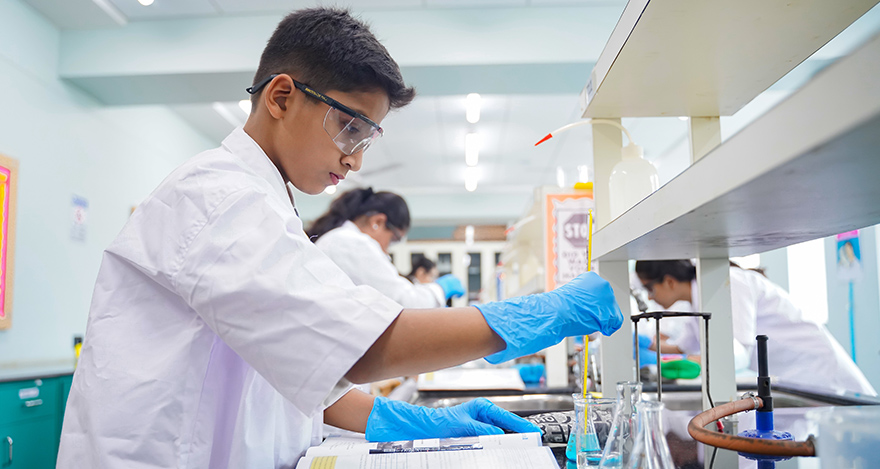 Addressing this convergence and making the kids future ready, C.P Goenka International school in Mumbai has adopted and implemented the STEAM initiative of learning that makes students not only competent and ready for the dynamic world but also gives them the much needed competitive edge, helping them stand apart at a global level. Aiming to integrate education, science and arts, the STEAM Approach at C.P.Goenka International School aims to bring together- Science, Technology, Education, Arts and Maths, creating an enhanced and enriching education to its students to prepare them to solve real world problems keeping up with the dynamics of today's environment.
Being one of the first IBDP schools in Mumbai to have adopted the STEAM movement of learning, C.P. Goenka International School curates a curriculum that intersects the global and Indian level of competence as well as the academic and practical understanding of the students. At C.P. Goenka International School, we understand that in today's competitive world, developing a child's theoretical knowledge is not enough and therefore the STEAM approach serves as building blocks to take the leap forward beyond theories into a more critical, practical and innovative format of learning. With our world class infrastructure, digital classrooms and highly skilled professors and teachers, we focus at making application based learning for science, technology, mathematics and engineering a basic learning framework and incorporating the STEAM approach to integrate a creative angle through arts and design.
STEAM as an interdisciplinary approach helps students to collaborate their critical understanding with creative thinking enabling them to ask questions, develop logics, solve problems and think out of box to create innovations. This therefore not only brings independent thinking abilities in the students but also helps them to become creative leaders of tomorrow as they learn and apply their concepts with a new perspective.
Being one of the few IBDP schools in Mumbai, C.P Goenka International School promises an advantage to its students like no other. Implementing experiential and STEAM approach right from pre-primary school up to high schools; we make learning an enjoying and happy experience especially for difficult and career oriented skills such as coding, robotics, programming and research transforming them into interesting g subjects of hobby for the students through the integration of arts. With our initiatives like exchange programs, entrepreneurship mentoring, robotics and analytics projects, the STEAM approach comes in quite handy as students get to learn the skills in a more engaging way making them proficient right from the very start and enabling them to select the right career for them as they grow up.
In addition to the STEAM, we at C.P Goenka International School, unlike other international schools in Mumbai, also bring to the students several competitive initiatives that help them become successful individuals of tomorrow. We encourage students to participate in extracurricular activities, collaborate for student exchange programs, develop additional hobbies and passions and even develop international language proficiencies such that they are ready to step in the outside world with ease and be ready to take on the changes in the environment head on.
Today, the global world is increasing moving towards STEAM initiative of learning not just for the students but also for existing employees and adults. The success of the initiative in developing mental and critical abilities of children has been lauded globally and the initiative has also been appreciated for giving personalities, passion, skills and knowledge the right direction so that individuals become ready for the working world outside.
Ultimately, with STEAM initiative, C P Goenka International School is all set to make education for children a process of active engagement, creativity, ideas, learning and fun with a promise that each child learning at C P Goenka International School will always feel at home yet become a competitive, skilled and holistic individual of tomorrow, driven by a constant vigour and willingness to wonder, critique, inquire and innovate.